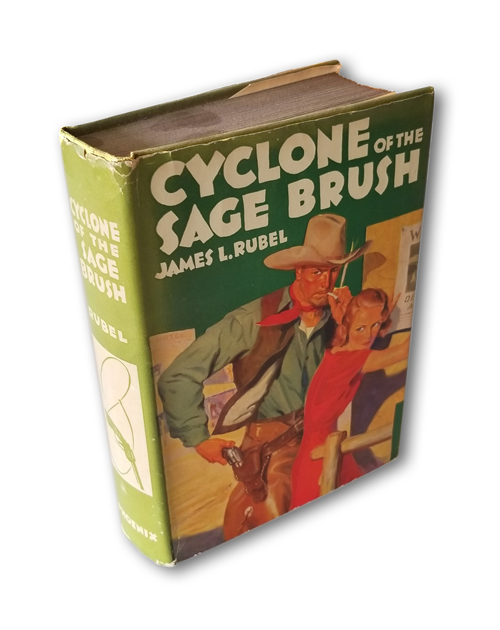 Title: Cyclone of the Sage Brush
Author: James L. Rubel
Publisher: Phoenix Press, NY
Publication Year: 1937
Binding: Hard Cover with Dust Jacket
Print: 1st
Edition: 1st
Version: U.S.
---
The menace of the cattle king, who hated nestors and homesteaders, threatened Jim Raitt, his family and their claim on the high plateau of the Mogollon rim. With his seventeen year old son, Jack, he fought off Slap Slade, the cattle king's foreman.
But a concerted raid wiped out Jim and his wife. They burned his stock, his house and his range, and made off with his daughter Thelma.
To right all these wrongs was the burden assumed by young Jack Raitt. Without hesitation he rode off, and met trouble before the sun had set.
---
Notes to the Title: It appears that the printing rights to this story were sold out-right. We are not 100% certain yet, but the book was published several times over and as follows:
Phoenix Press [1937]
Kessinger Publishing [2010]
Kessinger Publishing [2007]
Literary Licensing [2013]
It also appears the story was published in several different languages including German and Spanish.
We are working on this and hope to finalize our findings soon.
---