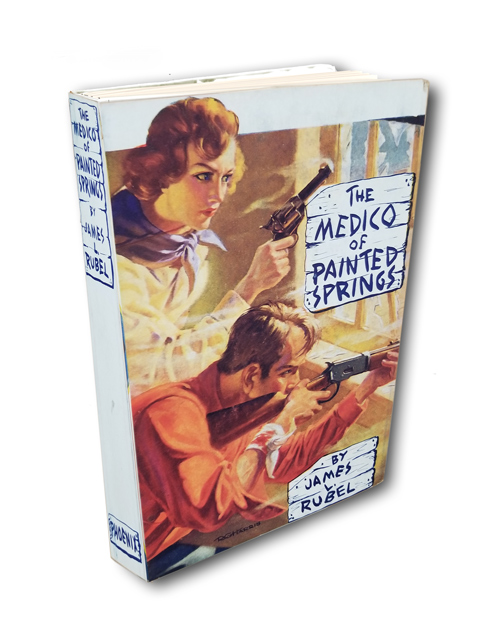 ---
In or around 1936, Mr. Rubel sold the rights to three of his books featuring the character Cliff Monroe, the Medico, to Columbia Pictures. These books were: The Medico of Painted Springs; The Medico Rides; and The Medico on the Trail. The books were to be used as a basis for a series of motion pictures similar to the "Hopalong Cassidy" pictures.
Shown below are movie poster promotional images to the respective movies. The main character in the books, Cliff Monroe, was changed to Steven Monroe in the movies. And, the titles of the last two movies were changed as well. We are not sure why, but sometimes Hollywood makes changes for no apparent reason, as they so often do.
---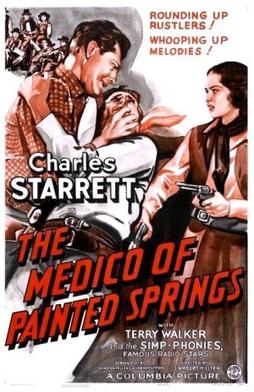 ---
None of the movies followed the storyline of the book(s), but were rather loosely based on the story and feature the Medico character played by Charles Starrett. They were also musical with songs and singing, very much like the Hopalong Cassidy movies.
Here's a link we found on YouTube to "Thunder Over the Prairie" in Spanish. It's all we've found so far on the world wide web!
---
Another point worth noting, was the TV show called The Frontier Doctor that aired in 1958-59. There was a fair amount correspondence between Mr. Rubel and his agent whether he should seek legal counsel with regards to the similarity the two characters. However, since the show barely lasted a season, they both decided the benefit would not outweigh the cost.
---