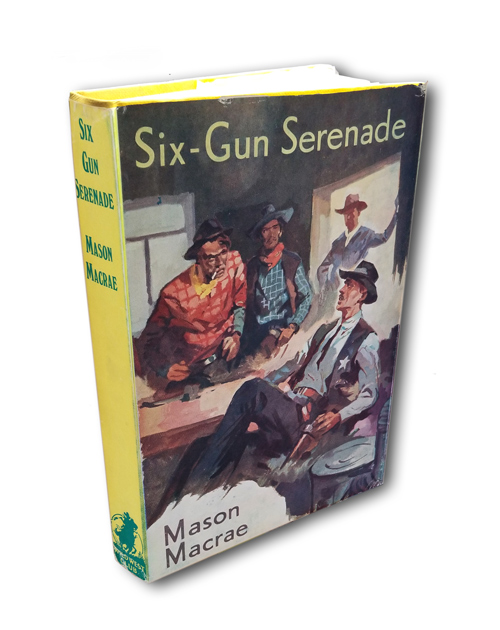 Title: Six-Gun Serenade
Author: Mason Macrae
Publisher: William Collins Sons & Co Ltd. for the Wild West Club
Publication Date: 1953
Binding: Hardcover with Dust Jacket (shown above)
Edition: 1st Edition
Print: 1st
Version: English / European
---
After a year out East, Jim Finch rode into Featherville and saw at once that things were different. The old town was gone. In it's place had come something that seethed with life. What could be the cause of the change, he wondered.
Sheriff Dakin explained that nesters were pouring into the valley, and settling on the range that ranchers had previously claimed as their own. Jim began to realize where the trouble lay.
Upon meeting Mr. Sam Broadener, Jim Finch and had a hunch that something was awry. His path and Broadener's would soon cross and when they did, one of them would have to give ground. His hunch, proved only too correct.
A tense story of murder, ruthless violence and an all-in struggle with no holds barred develops under the skilled direction of the popular Western fiction author Mason Macrae!
---
---