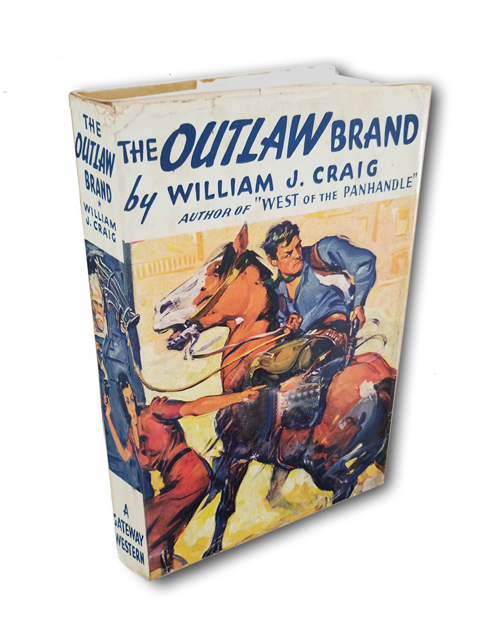 Title: The Outlaw Brand
Author: William J. Craig
Publisher: Gateway Press
Publication Year: 1940
Binding: Hard Cover with Dust Jacket
Print: 1st
Edition: 1st
Version: U.S.
---
Limberleg Magill, branded as an outlaw, had a mission in Lone Butte – to avenge the murder of the only real friend he had ever had.
When Limberleg's life was saved by Mary Farmer, he went to work on her spread to aid in a fight against the local banker who had resorted to every lawless means to drive the girl from her ranch. But Mary was never quite certain whether Limberleg was an ally or another minion of the crooked banker.
In the three-cornered war that followed, a dam was dynamited, a night prairie fire swept across the drought-parched flats, and a forced drive of a thousand head of cattle across lava beds with riflemen in the hills constantly harassing the desperate hands. Through it all strode Limberleg Magill, just a flash faster on the draw, just a bit more canny than his opponents.
William J. Craig possesses an ability to brilliantly depict men in action. He gives us here a stirring tale of violence that breathes the true spirit of America's Western tradition.
---
Notes to the Book: Limberleg Magill is a character that Mr. Rubel had visions for as a main character in a series of novels as well as motion pictures. One letter to his literary agent, A.L. Fierst, indicates that intent. See The Limberleg Series for more information.
---