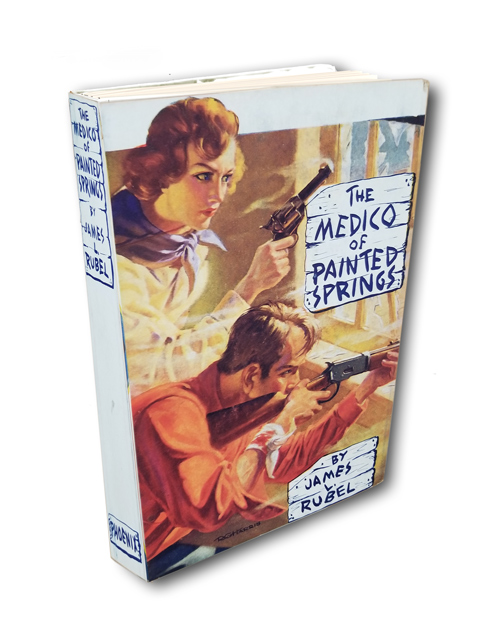 Title: The Medico of Painted Springs
Author: James L. Rubel
Publisher: Phoenix Press, NY
Publication Year: 1934
Binding: Hard Cover with Dust Jacket
Print: 1st
Edition: 1st
Version: U.S.
---
Cliff Monroe came to Painted Springs to be the County Health Officer. He had hardly stepped from the stagecoach when a fusillade of shots rang out and Dr. Monroe had his first patient.
The shooting was only one incident in a fierce feud between cattlemen and sheepmen that raged in that territory. The sheriff was neutral and Cliff tried to be, but he fell in love with Nancy Starweather, daughter of the leader of the sheepmen, and that made it difficult.
By the use of his wits, his personality, his dependable two guns, he ended the feud and solved his difficulty. How he did it makes a thrilling and absorbing story.
---
Published in 1934, this was James L. Rubel's first book and one of three books ( The Medico Stories ) he sold the rights to Columbia Pictures which were to be used in a series of motion pictures similar to the "Hopalong Cassidy" pictures. The Medico of Painted Springs was to be the first of them.
The film premiered at the Lido Theater, a cinema in Newport Beach, California. It was released in the United States in June 1941. Apparently, it was Charlie Starrett's favorite film.
---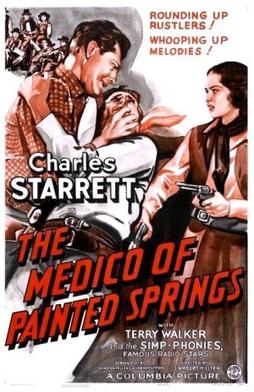 One of several promotional posters used for the movie, this was the main used at most theatres and box offices.
Here's the IMDB link for the movie: The Medico of Painted Springs
---
Below is an excerpt from the Wikipedia page for the movie.
---
The Medico of Painted Springs (also known as Doctor's Alibi[1]) is a 1941 American Western film produced by Columbia Pictures. Based on the novel of the same name by James Lyon Rubel, the film stars Charles Starrett, Terry Walker, Ben Taggart, Wheeler Oakman, and the Simp-Phonies in a cameo appearance. It was directed by Lambert Hillyer and written by Wyndham Gittens and Winston Miller. In the film, Starrett's character, Dr. Steven Monroe, travels to a tumultuous Painted Springs and attempts to resolve a raging conflict between two camps – the cattlemen and the sheep ranchers.
---