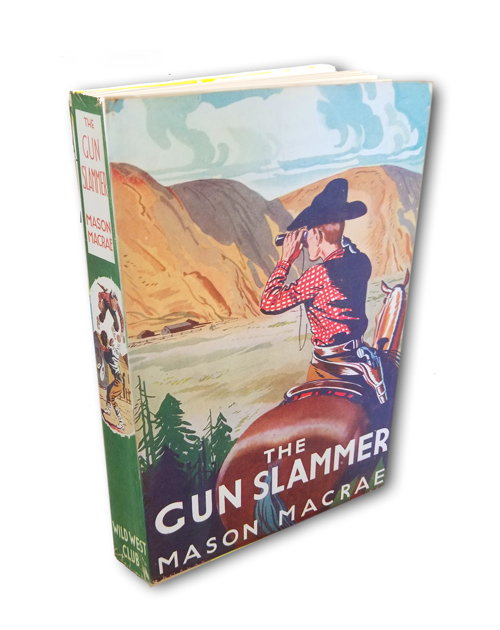 Title: The Gun Slammer
Author: Mason Macrae
Publisher: William Collins Sons & Co Ltd. for the Wild West Club
Publication Date: 1945
Binding: Hardcover with Dust Jacket
Edition: 1st Edition
Print: 1st
Market: U.K. / Europe
---
Old Abe Coffin had died and Jim Cole was coming from Texas to take over the management of the old man's ranch. Every minute the train was bringing him nearer to El Rico valley, where a welcome was being prepared for him. Not quite the reception he had anticipated, for there were desperate men in El Rico, men who were determined that Jim would never get that fine ranch he had set his heart on. With hatred in their eyes and murder in their black hearts they waited for Jim.
In the Gun Slammer, Mason Macrae tells a fast-moving, rip-roaring story of Western life out in the ranchlands of America.
---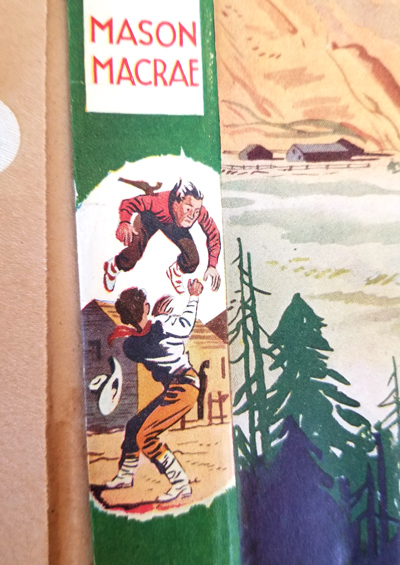 Gun Slammer or Cowboy Toss?
We are confused by the artwork on the spine of the dust jacket for this book. It appears that one cowboy has thrown the other into the air.
The cowboy doing the tossing would have to have considerable fighting skills to pull this off. At the very least, he would need a special technique, because he doesn't appear to be much larger in size than the airborne guy. We're lookin' at throwin' a 150-180 lbs. of cowboy right up in the air!
That's some serious talent!
---
---